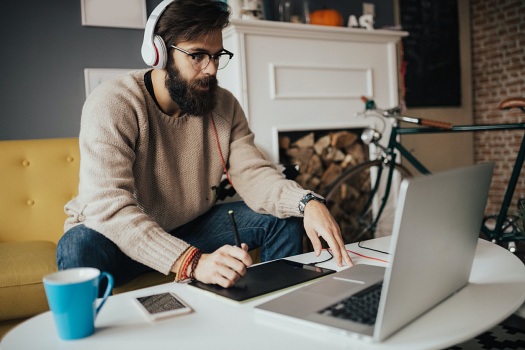 The benefits of remote working have been talked about for many years. But from March this year, it became a reality for many employees. And as many companies embrace remote work, low-income earners wonder whether this move will help them improve their financial situation or make it worse. So let's take a look at some ways you can earn money while working remotely.
According to a study by Tilburg University, remote work is more productive. It gives employees more flexibility, control of working hours, and makes them more efficient. Looking at these benefits, experts say it can be good news for people struggling financially.
The flexibility that comes with remote work means you have more time to take on more remote jobs or start a side hustle. And fortunately, there are many opportunities to choose from.
We want to help you use this change to your advantage. So in this post, we share some opportunities to explore and offer tips to help you earn money while working remotely.
Opportunities To Explore While Working Remote
Create Websites
Shopping online has become more popular than ever before. Many businesses, particularly traditional ones are looking for ways to tap into this growing market. And to do that, they need a good website.
If you possess web development skills now is the right time to use them to earn some extra income. If you don't, take short courses on the same and work your way up. Learning platforms such as Coursera and Udemy even offer some free tutorials on these skills.
Manage Customer Service Requests
Apart from a website, online businesses also need customer service representatives 24/7. Since these jobs can be done from anywhere, many companies are outsourcing them to remote workers.
So as you work remotely, consider managing customer requests for them. You just need to have great communication skills, patience, and a background in marketing or customer service.
Share Your Skills Online
Technological advancement has made it possible for people to share their skills with the world online. For instance, many teachers are working with many students across the globe and are getting paid for it. So find a skill that you can share. Develop a course and market yourself.
Sell Your Photos Online
If you love traveling, you most likely have hundreds or thousands of gorgeous photos. With so many people around the world stuck at home, photography can be a great way to make some extra income.
People and businesses are looking for new photos and stock websites make it easy for you to share your work. So rather than leaving them on your computer, use platforms such as ShutterStock, iStock, Fotolia, and PhotoShelter to create passive income.
Get Crafty
Working remotely doesn't mean everything has to be digital. Digital platforms are also offering a marketplace for non-digital commodities.
If you're crafty, you can easily earn money remotely. Just make unique products and sell them online. Platforms like Etsy, Amazon Handmade, and ArtFire help people who make handmade products sell online. Use those skills to make jewelry and sell them.
These are just a few opportunities to explore. And now that you know them, here is what you can do to find other remote jobs.
How To Find Remote Job Opportunities and Earn Money While Working Remotely
Network
Contrary to what many think, great positions are usually offered by people you know. So don't wait until it's too late to reach out to your networks and propose your candidature.
Cold Reach
Sometimes, it pays to reach out directly to companies that you yearn to work for. There is a chance that they're looking for someone to work remotely for them.
Apply Online
As mentioned earlier, some companies don't advertise on their websites. They outsource job openings to other companies. So as you work, search for remote jobs. If you find one that interests you, apply for it. Be sure to adjust your resume to reflect what they're looking for.
Key Takeaways
Working remotely can be what you need to change your financial situation forever. With less commuting, you can use the time saved to get other remote work or start a side hustle. We hope these tips help you get you to earn money while working remotely and get you started on the path to financial freedom.