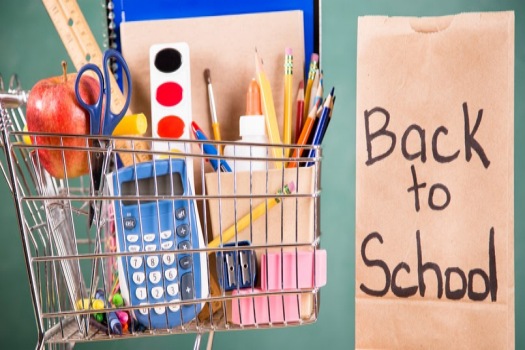 The back to school season is here with us. While some schools have already opened, many others are preparing to welcome students back to classrooms or through remote learning. That means many parents are on the market for back-to-school supplies. And many are wondering how to save money on back-to-school supplies.
But parents are expected to dig deeper into their pockets this year than ever before. According to a 2020 study by Deloitte, parents will spend close to $530 per student this year. This is slightly up from last year because COVID-19 has forced many parents to invest in technology, health, and safety products to keep their loved ones safe.
This is tough on low-income households, especially those struggling with debt. If you're one of them, don't lose hope. Here are five ways to save money on back-to-school supplies!
Take Inventory to Save Money on Back-To-School Supplies
Many parents usually head straight to the store or jump online to buy items they already have. So before hitting the road with a school supply, it may be wise to check around the house for unused supplies such as pens, notebooks, folders, and more.
While at it, remember to include electronics. This year, your kids may use their laptops, headphones, tablets, earbuds, and other virtual learning gadgets like never before. This will help you avoid spending money on things you already have.
Shop Wisely
After taking inventory and making a list of items to buy, it's time to shop smart. Wondering how? Read on for some great ways to save money on back-to-school supplies.
Buy Refurbished Electronics
As mentioned earlier, one of the biggest expenses for parents this year are electronic learning gadgets like tablets and laptops. But if you want to save hundreds to thousands of dollars on them, go for refurbished products.
Experts say that parents can save up to 50% by opting for refurbished gadgets. However, you must be extra cautious. Make sure the product is certified, has a warranty, and the sellers provided a good return policy.
Stick To Store Or Generic Products
Apart from electronics, many parents are concerned about the cost of health and safety products such as face masks, hand sanitizers, and disinfecting wipes. To save money on these items, it pays to buy store or generic brands. This way, you're likely to save up to 30%.
Buy In Bulk
When you buy items in bulk, you might get great deals per unit. So rather than going shopping alone, it may be prudent to split costs with another family or relative. And if you have many children, you can also split costs between them. This will help you get better prices and save money on back-to-school supplies.
Wait For The Off-Season
If you can wait until after the back-to-school shopping season ends, you might get better deals. But that means you must have enough supplies to get you through the season. To help you make an informed decision, you may have to confirm with teachers what's needed now and what can wait.
Use Free Resources
At the start of the pandemic, many companies offered free learning courses, programs, and materials for free. And as such, it is prudent to take advantage of them now to save money on back-to-school supplies.
For example, many local libraries are offering free access to thousands of free books. Others even offer free homework help and tutoring programs. So if you haven't gotten a library card, now is the time.
Fortunately, many libraries are still offering temporary access. You can register online, get your card, and get started right away.
Plan For Meals
Unlike other semesters, many parents may have to participate in partial homeschooling or at-home learning this year. This may increase your budget on grocery bills.
To save money, it pays to plan for meals. It will help you remain organized, avoid impulse buying, and reduces food waste.
Also, it may be helpful to find recipes with overlapping ingredients. This will help you reduce waste and provides an opportunity to buy in bulk.
Evidently, parents will spend more this year on back-to-school supplies. But that doesn't mean you can't save on these supplies. We hope these tips help you reduce your costs and keep your loved safe.