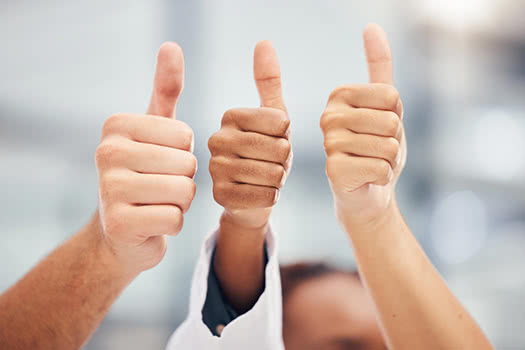 A Trusted Financial Organization
Patriot Funding is dedicated to helping connect people to financial solutions that create long-term stability, work we have been proud to do since 2018. That being said, it is understandable you may wonder: "Is Patriot Funding a legitimate company?"
Managing debt can feel like an overwhelming task with too many options, so reading Patriot Funding reviews is a good first step to give you insight from real people on why and how Patriot was the right answer at the right time. Then, you'll be able to confirm for yourself that you are in capable, experienced hands.
Managing Debt Repayment
One of the key benefits of choosing Patriot Funding for your debt consolidation needs is the opportunity to simplify your debt repayment process. Our debt consolidation loan allows you to merge multiple debts into a single payment, eliminating the hassle of juggling various due dates and amounts. By consolidating your debts, you can streamline your financial obligations and focus on a single monthly payment.
Consolidation Loan Savings
Furthermore, a debt consolidation loan from Patriot Funding presents the potential for significant cost savings. Our team of experts works diligently to secure you a lower interest rate on your consolidated loan, which can lead to reduced monthly payments. By paying less in interest, you have the opportunity to pay off your debt faster and save money in the long run.
Tailored Solutions for Unique Financial Situations
We understand that each person's financial situation is unique, which is why our approach is tailored to your individual needs. When you choose Patriot Funding, our debt consolidation loan process begins with a comprehensive assessment of your debt profile and debt-to-income ratio with one of our experienced financial counselors. This assessment helps us determine your best options, ensuring that you receive a fair and personalized solution.
Comprehensive Coverage and Limitations
It's important to note that Patriot Funding's debt consolidation loan covers a wide range of debts, including credit card debt, personal loans, and medical bills. While we strive to offer comprehensive solutions, it's crucial to understand that certain secured debts, such as mortgages or auto loans, cannot be included in the consolidation process.
When evaluating whether a debt consolidation loan is right for you, it's essential to consider the potential benefits. Consolidating your debts with Patriot Funding not only simplifies your financial obligations but also provides you with a clearer path towards becoming debt-free. By reducing your interest rate and monthly payments, our loan empowers you to make substantial progress in paying off your debt and regaining financial stability.
Customer Testimonials
But don't just take our word for it. Here's what some of our satisfied customers have to say:
Steve D. — Geneva, IL

"I'm not even sure how or when I spent so much on my credit cards, but it became really clear I needed to find a different way to deal with it. So I tried Patriot after getting a letter in the mail from them and called them right away. My consultant was super helpful and walked me through the process and my options simply and thoroughly. Being a part of this program has set me back on track. I'll pay off my debt in a fraction of the time it would have taken me with minimum payments — with serious savings on interest."
Mary-Alice S. — El Paso, TX

"When my husband and I had our first child, we put a few expenses on credit cards to get the nursery together and some other things. Then by the time my daughter was 2, I felt like the debt had become this huge obstacle we would never overcome. Fortunately, Patriot connected us with a payoff option that worked for our family — and I can't wait to be debt-free in 36 months!"
Alonso D. — Guilderland, NY

"Recovering from the pandemic and what it did to my income has been a huge task. And we ended up in a lot of debt, from putting regular expenses on credit cards to manage a tight cash flow. Well — it was time to get that fixed. Patriot Funding stepped up with a great solution, and I finally feel like this will all be behind me soon."
Transparent Terms and Conditions
While there are numerous advantages to choosing a debt consolidation loan, we also want to ensure that you are fully informed about why you might not choose one. Some lenders may charge fees associated with the loan, and it's crucial to carefully review the terms and conditions before committing. Additionally, extending the repayment term could result in paying more interest over time. At Patriot Funding, we prioritize transparency and encourage our customers to thoroughly assess the terms and conditions of any loan option so you can make an informed decision that benefits you in the long run.
Patriot Funding: A Legitimate, and Smart, Solution
Since 2018, we have been helping people like you regain control of their finances with our tailored solutions supported by our team of expert consultants. The result? Simplified payments, savings, and a firm deadline to be out of debt. Give us a call or fill out our simple contact form, and embark on a path toward financial freedom today.